Virtual exhibition
SERGIJE DOGAN
Memorial material in the collections of the Croatian Academy of Sciences and Arts
Publisher:
Croatian Academy of Sciences and Arts
Trg Nikole Šubića Zrinskog 11, 10000 Zagreb
For the publisher:
Member of the CASA Dario Vretenar, Secretary General of the Croatian Academy of Sciences and Arts

Organisers:
Croatian Museum of Medicine and Pharmacy, CASA:
Member of the CASA Marko Pećina, Head of the Museum
Silvija Brkić Midžić, Director of the Museum
Division for the History of Medical Sciences of the Institute for History and Philosophy of Science, CASA:
Prof. Stella Fatović-Ferenčić, MD, PhD, Director of the Institute
Martin Kuhar, MD, PhD, Research associate
Co-organizer:
Croatian Medical Association
Prof. Željko Krznarić, MD, PhD, President of the Croatian Medical Association
Editors and authors of the virtual exhibition:
Silvija Brkić Midžić
Stella Fatović-Ferenčić
English translation:
Sanja Alexander Pehnec
Martin Kuhar

Design, programming and implementation of the exhibition:
Link2 d.o.o.
Prof. Goran Zlodi, PhD
Ivanka Maroević

Digitalisation of exhibits:
Zoran Svrtan (Museum of Arts and Crafts), within the project eCulture – digitalisation of cultural heritage
Silvija Brkić Midžić
Year of publishing
2022

Thanks to Prof. Branka Marinović, MD, PhD for the donation of material from the legacy of Prof. Sergije Dogan, MD, PhD, which we present at this exhibition.
This virtual exhibition is a part of programme of the joint action European Heritage Days 2022.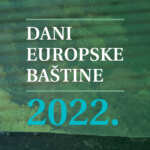 The exhibition was realized with the financial support of the Foundation of the Croatian Academy of Sciences and Arts, the City of Zagreb – City Office of Culture and the Croatian Medical Association.